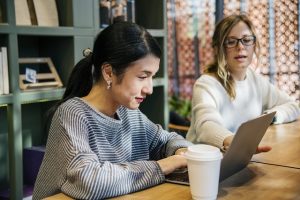 Looking for Dutch language training – a Dutch course entirely tailored to your needs? Look no further! I have been teaching both corporate and individual courses for years, gearing each course to the requirements and goals of the participants. Ready to join?
Contact me to book your Dutch custom language course >
Which courses do I offer?
1. Custom Dutch courses
Know exactly what you want, but can't find it in the standard packages offered by large language schools? Then this is the place to be! Together, we will develop a course entirely geared to your needs and wishes. There's no such thing as fixed packages here. Based on your request, I will select just the resources you need. We will then join forces to create a fully tailored course.
But there's more! You can choose how many hours you want to book and there's no need to book them in advance. We will decide as we go along.
In a nutshell, you can expect a fully customised language course. Contact me today and let me know what you're looking for!
2. Dutch for foreigners
This is the field I specialise in. I completed a dedicated course and I have been teaching Dutch to foreigners for years, at all levels. Meanwhile, I have collected a lot of resources, allowing me to perfectly meet your needs and expectations.
Are you an absolute beginner or do you have a good foundation to build on? We'll start off by discussing your needs and profile. Are you planning to study Dutch mainly for personal use or do you need it for work? How much time can you dedicate to the course? Would you like to focus on speaking or is written communication also important to you?
So far, I have mainly worked with highly educated students who need to learn Dutch for professional purposes. So corporate language training is definitely my cup of tea! However, I also offer private lessons at home.
3. Dutch business communication
Clear and efficient communication is becoming increasingly important in our society. Do you feel you could do better? I'm here to help!
Do you often use Dutch at work, but are you struggling a little because it's not your mother tongue? Maybe you want to focus specifically on e-mails, phone calls or presentations to familiarise yourself with business terminology and come across as more professional?
Are you great on the phone and during presentations, but could your written communication do with a little push? We'll take a closer look at your texts and see what can be improved. Concretely, we will fine-tune your spelling, grammar and writing style. I will gladly take on the challenge and help you achieve your goals.
4. Dutch and English tutoring
Is your child struggling with Dutch or English lessons at school? Then a professional can definitely lend a helping hand! I can help your child with all aspects of language, from speaking to grammar, reading comprehension and speaking. You name it, we can tackle it! I will sit down with your son or daughter to find out where they could use some help, and I will bring along the necessary resources for them to thrive.
Or maybe you are looking for a text revision, or a medical or general translation? Get in touch! I can offer those as well.
Are you looking for a real custom Dutch course? >